Before I dive into my thoughts on Circus Orange's "Tricycle," I feel like I should give a quick disclaimer: Given the performance's scope, the large crowd, and the layout of Manhattan Square, there were parts of the performance that were just impossible to see from my position. I welcome readers to fill in some of the details and tell us about their perspective of the show.
In all earnestness, Circus Orange's performance of "Tricycle" was an incredible spectacle. The Ontario-based group made its New York State premiere at Friday on the Fringe by pushing an 18-foot-tall tricycle through a packed crowd, shooting flames and fighting monsters along the way, before lifting a human-powered wheel into the air for a powerful fireworks finale. With European-style circus arts, pyrotechnics and fire acts, a little industrialism, and a lot of surrealist whimsy, "Tricycle" could have been a Terry Gilliam fever dream.
click to enlarge
click to enlarge
click to enlarge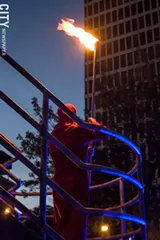 It is largely experimental, but "Tricycle" has something of a narrative: Foo has been charged with transporting the power of Light back to the people. He mounts his tricycle, with Light stored within the wheel, and calls out -- using a combination of French, gibberish, and some random English words -- to his helpers to join him. Along the way they are joined by acrobatic fire-bearers, monsters subdued by Foo, and the Fire Queen. Upon reaching its destination, Light is lifted into the sky to shine over the audience.
By weaving the tricycle through the crowd, Circus Orange made an interactive, unique experience. The crowd was up close, could feel the heat of the machine's flames, and be more like participants, rather than just observers.
It must have taken careful planning, but Circus Orange explored the Manhattan Square space: the tricycle wound from one side of the park to the other, with a fireball show occurring over the grass and a graceful dance routine taking place down in the bowl. Given the viewer's position, experiences watching the show could have been drastically different.
On paper, that sounds like a great performance idea, but from an audience standpoint... (Thus my disclaimer.)
Circus Orange's "Tricycle"
Circus Orange performed "Tricycle" at "Friday on the Fringe" -- part of the 2014 First Niagara Rochester Fringe Festival -- on Friday, September 19, 2014 in MLK Jr. Park at Manhattan Square.
PHOTOS BY MARK CHAMBERLIN, ASHLEIGH DESKINS, AND JOHN SCHLIA
For any missed tricycle moments, the finale more than made up for it. The well-timed fireworks and spinning fire wheel high above the crowd was entrancing -- especially if you paid attention to the acrobat in the middle, powering the wheel with a dream-like slow-motion run and flips.
Circus Orange is the type of group that adds the unique spectacle to fringe festivals -- bringing epic-in-scope shows that you rarely get anywhere else. I look forward to seeing that next fever dream.


Circus Orange performed "Tricycle" throughout MLK Jr. Park at Manhattan Square. | Video shot & edited by Matt DeTurck