Only a few more days remain of "Wintercraft," the annual holiday show and sale of handmade items made by local artists, held at Genesee Center for the Arts & Education (713 Monroe Avenue).
The show features decorative and utilitarian ceramic vessels and Rochester-pride ornaments, colorful aprons, and a variety of letterpress goods. This latter group includes holiday and other occasion cards, pretty posters, as well as the popular annual letterpress calendar, with each month designed by a different local artist. There's truly something for everyone on your (last minute) list.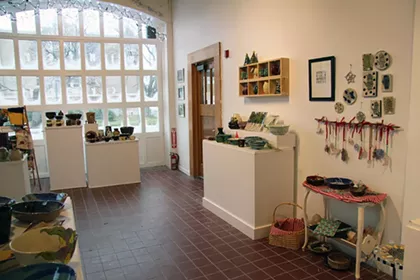 7 slides
The exhibit and sale continues through Saturday, December 19. Wintercraft hours are Monday through Wednesday, 10 a.m. to 5 p.m.; Thursday: 10 a.m. to 9:30 p.m.; Friday, 10 a.m. to 5 p.m.; Saturday, noon to 5 p.m. Admission is free.
While you're in the building, check out "Farm to Table: Migrant and Seasonal Workers" (a group photo show lead by Arleen Thaler and presented in the Community Darkroom through January 30).
For more information, call 244-1730 or visit rochesterarts.org.