Passion Pit has always been about mixing the light and the dark. The songs on the band's first two albums, "Manners" (2009) and "Gossamer" (2012), obsessively dwell on kill-me-now topics like depression, self-loathing, bankruptcy, suicide attempts and frontman Michael Angelakos' struggles with bipolar disorder. But these grim lyrics are always hyped up with bubbly, blindingly bright dance music that gives the false impression that everything is just fine.
That luminous side of the band shone through when it played at the Main Street Armory on Monday night. The band performed under a manmade skyline of balloon light bulbs, which bathed the entire performance in brilliant pinks and purples, blues and greens, and ensured that the sparkling side of Passion Pit would be at the forefront of the show. It was certainly a step up from the band's last appearance in the area, in 2010, when it performed in a gymnasium at SUNY Brockport. It also made for an evening that, altogether, might be the most exuberant Monday night Rochester has seen this year.
The Swedish girl duo Icona Pop, coming off its self-titled debut from last year, got things going with a ravey, jumpy set of house music, and were then followed by an even higher-energy duo: Matt and Kim. The all-smiles Brooklyn pop duo and couple - vocalist/keyboardist Matt Johnson and drummer Kim Schifino - filled the Armory with their bare-bones instrumentation, and could barely keep still for a second as they playfully blazed through hits like "Now" and "Daylight." Schifino jumped on top of her drum set whenever she had a free moment, Johnson almost leapt across his keyboard while shouting into his microphone, and the couple took frequent breaks to banter, toast beers together, and dance to hip-hop tracks and "Harlem Shake." It was like sitting in on a hangout with the cool hipster couple everybody envies.
Once Passion Pit took the stage - starting with the insistent and ironic "I'll Be Alright" - it was hard to top Matt and Kim's jubilant overload. So it isn't much of an insult to say that the headliners never did. Passion Pit's set was frontloaded with some of the band's biggest songs - "The Reeling," "Moth's Wings," "Carried Away" - and the band only slowed things down once it ventured into an unnamed new song. (Basic summary: elated vibe, glistening keyboard lines, falsetto-heavy chorus.) But Angelakos, who performs all of the songs himself in the studio, mostly just paced around the stage during each song, and made few attempts at interaction beyond the occasional crowd check-in and assurance that everyone was "fucking awesome." Meanwhile, the rest of the band - keyboardist and guitarist Ian Hultquist, synth player and sampler Xander Singh, bassist Jeff Apruzzese, and drummer Nate Donmoyer - dutifully remained seated in the background.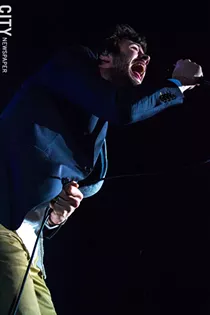 10 slides
Still, there was a noticeable contrast between the band and its leader. While the band played record-perfect renditions of Angelakos' chirpy songs, Angelakos himself was mostly imperfect - his signature helium-high falsetto was usually adrift and inconsistent, almost muttered at times, as if he was already worn out long before getting onstage. You could call it poor showmanship. Or you could call it a good representation of the earnest anxiety that Angelakos embodies, and that is central to his music. Either way, his struggle and strain were on full display at the show.
But the crowd didn't seem to mind. Like true Passion Pit fans, they were happy to share in the struggle. The titular refrain of the recession anthem "Take a Walk" has grave connotations in the song's narrative - it could be a motto of resignation or even suicide - but here, it was the night's ultimate sing-along and throw-your-hands-up moment. When Angelakos wailed the existential grief in the chorus of "The Reeling" - "Look at me, oh look at me, is this the way I'll always be?" - the crowd giddily answered back each time with the response of "Oh no!," like they were helping a friend through a crisis.
On this night, the underlying darkness of Passion Pit was nothing to worry about - it was something for everyone to embrace. Of course, the beautiful lighting helped. It set the perfect mood for everything from the R&B slow jam "Constant Conversations" (the lights dimmed into a sensual red) to the isolation ode "To Kingdom Come" (the bulbs projected eyeballs that blinked through the song). Best of all, though, was the seizure-inducing light show spectacle that accompanied the climatic performance of "Make Light" - a song that begins with Angelakos remarking how, in his life, "darkness falls like shattered pieces."