Hands down, my favorite part of seeing a band live is the spontaneous smile that creeps across a performer's face. I don't mean the "look nice for the crowd and pretend" smile. It's the smile that happens after a musician pulls off a momentous build, or their bandmate wraps up a ridiculous solo. In that moment, you know they're having as much fun as the crowd. That's why Snarky Puppy's stellar second set at Harro East Ballroom on Saturday night will stick with me for a while.
A collective of sorts, members of Snarky Puppy have their regular gigs with acts like Erykah Badu, Kirk Franklin, Justin Timberlake, Roy Hargrove, and Snoop Dogg. A world of influences comes back to Snarky Puppy, and live, this produced an epic-in-scope, rich set.
The eight members on stage -- bandleader and bassist Michael League; Chris Bullock, tenor saxophone; Evan Weiss, trumpet; Justin Stanton, keys and trumpet; Cory Henry, keys and synth; Mark Lettieri, guitar; Nate Werth, percussion; and drummer Robert Searight -- were filled with a contagious youthful energy that the crowd latched onto, bouncing all the way. League runs a tight ship and there was a clear favor toward the grand dramatic in the band's hip fusion.
If there could be any complaint it's that at the softer points of Snarky Puppy's set, a lighter solo or use of sparse instrumentation, the sound didn't carry well across the large, boxy Harro East Ballroom. But when pushing full-sprint, full-volume -- especially during a dual trumpet attack -- those concerns quickly disappeared.
Jason Marsalis joined the band on drums during the final song of the regular set, and on percussion during the two-song encore, reminding me why I love festival shows and why you should always stick around for the finale -- and damn, I could write a full column about that Cory Henry, synth-heavy, swirling finale.
Sunday night I'm checking out French gipsy jazz band Les Doigts De L'Homme at Montage. Just that phrase "French gipsy jazz band" has me excited.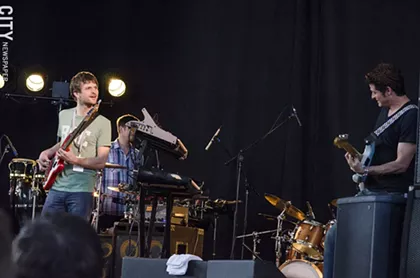 9 slides