Dan and Chris Brubeck, sons of legendary jazz pianist Dave Brubeck, brought their family's secret recipe to Harro East Ballroom on Sunday night. The Brubeck Brothers Quartet drew a large crowd, perhaps due to the family name. People sat mesmerized, taking in a healthy balance of original tunes, Dave Brubeck classics, and jazz standards.
Regardless of origin, each piece flowed from the Quartet with impeccable ease. I have never seen an act that felt more at home on stage. Each member's instrument seemed like an extension of his body, and it all came together to create a perfect storm of quick rhythms and complicated chords. As intricate and ornate as the music was, the Quartet made it look easy, never once breaking a sweat.
Although each member brought impressive talent, pianist Chuck Lamb was a standout. His fingers flew lightly across the keys. In addition, Chris Brubeck demonstrated a rare mastery of the trombone, producing distinctly clear melodies on an instrument that can easily sound muddy.
Despite the large, fancy venue, the gig had a relaxed and intimate feel. Chris talked fondly about growing up surrounded by legendary musicians like drummer Joe Morello.
It was like being privy to a living room jam session in the Brubeck house. Each tune felt like a gift passed down through the lineage of the Brubeck family.
Tomorrow, I'll be back at Harro East to hear another artist with impressive musical roots: Catherine Russell, daughter of the late Luis Russell. Russell's vocals have been highly praised in the music media, so I'm excited to hear her for myself.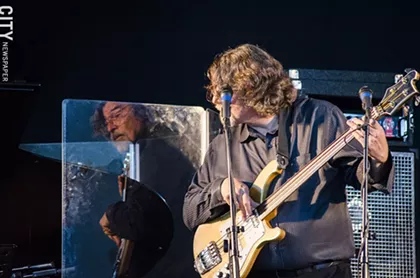 10 slides