Catherine Russell is a clear Jazz Fest crowd favorite. Patrons packed wall-to-wall into the Harro East Ballroom to see the daughter of the late Luis Russell. And when she appeared on stage in a glittery silver top, the audience responded with enthusiastic cheers.
Russell's strong, soulful voice was near-perfection as she plowed through one classic jazz tune after another, achieving the kind of technical prowess that is normally reserved for recordings these days. It was an impressive feat, considering how feverishly she moved her hips to the beat. The audience played along, bobbing their heads and tapping their toes.
Russell's saucy vocals were accompanied by a simple band comprised of upright bass, piano, and guitar. Fat, full bass notes laid a strong foundation for the simple pass-and-play style performance, and Russell's narratives were punctuated with classic, cool solos from each of her band members. There was nothing too complicated or sophisticated about the whole affair. It was a set list chock full of crowd pleasers.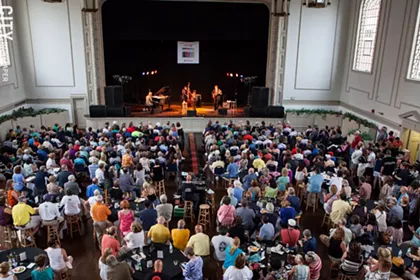 10 slides