Tuesday, November 24, 2015
Protesters target Slaughter over refugee vote
Posted

By

Jeremy Moule on

Tue, Nov 24, 2015

at

5:40 PM

"Almost 20 years ago someone was compassionate to me and my family, and my life changed because of that," Omerhodzic says.

She was among dozens of people this afternoon who protested in front of the Federal Building on State Street over House Representative Louise Slaughter's vote in favor of a bill that would impose stricter screening requirements on Syrian refugees entering the United States. The group, carrying signs that read "Good Rep Bad Call," and "Louise come back from the dark side." Slaughter's main district office is in the building.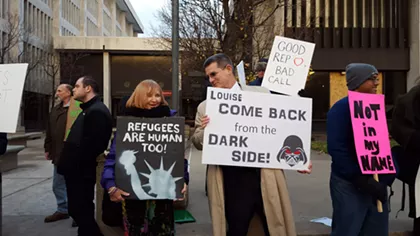 7 slides
Omerhodzic said that Americans shouldn't turn their backs on the Syrians, who are fleeing both their government and ISIS; the exact same things that Americans are afraid of, in other words.
"What is a more American value than being a safe haven?" Omerhodzic said.
Earlier today, Slaughter released this statement explaining her vote:
In recent days, I have heard from a number of constituents who have associated my support for a bill that creates a new refugee certification requirement with xenophobic and racist comments made by Republican presidential candidates. In the wake of the terrorist attacks in Paris and Beirut, these shameful political statements did nothing to contribute to a thoughtful debate on moving our country forward. I am deeply disappointed by those who have conflated my position with those of Donald Trump and Ben Carson while questioning my long record of support for vulnerable families trying to escape violence to make a better life in a new land.

Some have suggested that we must choose between the safety of our homeland and alleviating the suffering of those fleeing violence, but this is a false choice. Our compassion for those who are suffering is a source of our nation's great strength and with smart reforms we can ensure our national security while remaining a beacon of light in a sometimes dark world. This position is in keeping with my long history of working to support refugee resettlement and promote human rights around the world. As a member the Helsinki Commission, I've toured Turkish prisons and demanded human rights reforms from foreign leaders. In Congress, I have fought to save foreign interpreters with a special visa program, including Janis Shinwari and his family, who narrowly escaped a terrorist kill list in Afghanistan and have resettled in the United States.

The SAFE Act requires the Federal Bureau of Investigation, Department of Homeland Security, and the Office of the Director of National Intelligence to certify that refugee applicants from Iraq and Syria do not pose a threat to our national security and to report their findings to the Congress. As the House prepared to debate the bill, I put forward a Democratic alternative that would have better addressed our security needs while strengthening our ability to respond to this truly staggering humanitarian crisis. The bill had widespread support but, unfortunately, Republicans in the Rules Committee blocked the compromise legislation on a party-line vote.

The SAFE Act was not perfect, but after a careful review of the bill text and hearing from the White House and our national security leaders in a classified briefing, it was my view that an additional layer of certification would not prohibit refugees from entering our country or create significant new delays to an already lengthy process that takes 18-24 months and has brought in just 2,034 Syrians since 2011. As the House works with the Senate and the White House to find common ground, I will continue to fight for a final bill that ensures we are not trapped by the false choice between living up to our humanitarian principles and keeping America safe.
Alma Omerhodzic arrived in the United States from Bosnia in 1997, and came to Rochester with the help of a local Episcopal church. Omerhodzic, who now lives in Fairport, was a refugee: Serb forces attacked her hometown, imprisoning and later killing her father.