On the evening of Friday, January 15, Axom Gallery (176 Anderson Avenue, second floor) hosted "Experimental," a successful night of sound performances by City Harvest Black, Mike Shiftlet, Licker, and Joe + N. The experimental and noise performances drew a large audience, and were beautiful explorations of atmospheric and electronic mashups, executed in front of a photo installation by John Lake that filled most of the gallery's walls.
Lake's installation was as immersive as the music. The massive panorama was pieced together from countless pages printed in black and white, depicting a few shots of a larger-than-life man standing, floating, and exalting in the waters of Lake Ontario. Here's hoping for more of these sorts of events from Axom!
Arts & entertainment editor Jake Clapp and I dropped in on the month-long artist residency at The Yards (52 Public Market) on Saturday, January 16, to visit with the creators and see what they've accomplished so far. This round of resident artists features four Rochester-based makers, and one artist from Brooklyn.
Ryan Sutherland is relatively new to creative expression -- he only began painting a couple of years ago, and he also makes video work. Some of his acrylic paintings in their chaotic lines and saturated, bold colors, remind me of the work of Basquiat and outsider artists, who he says that he favors. And his mixed media pieces struck me with the kind of visual sucker punch of punk album and zine imagery.
Sutherland's subject matter ranges from cityscapes, to portraits, to sort of stream of conscious collage. My favorite work in his current set is a portrait of a bearded man adorned in a turban or head wrap that resembles a windy sky. Set against an acidic yellow background, and against the motion in his turban and the chaotically scratched texture on his shirt, the subject's face is the very picture of inner calm and meditation. The work breathes reverence, and Sutherland says it's about his own reaction to Islamophobia.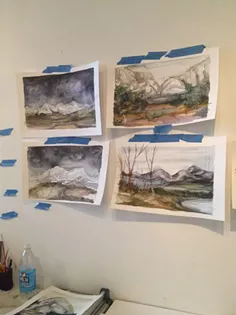 13 slides
The only non-visual artist during this residency, Karsten Brooks is a musician who creates in the electronic and experimental/noise genres. Set up with a drum kit, keyboard, and computer during the residency, Brooks has been inviting other musicians to collaborate with him on different days, providing a live soundtrack for the other artists while they work and chat with visitors.
Brooks says the residency has been a nice way to play drums and create without the fear of disturbing his neighbors at home, where he usually plays, and that he's taken advantage of late studio hours for this reason. He blends drums, keys, ambient creations, and sampled bits of music and spoken word to create entrancing, layered compositions. Hop over to his Soundcloud account to check him out.
Atiya Jones, who is visiting Rochester from Brooklyn, works in both abstract and figurative styles. In the past, her interests have included creating portraits that challenge standards of beauty imposed by advertising and media, and has created zines of her drawings and poems. She also incorporates photography into some of her work. The current series she's working on might look like pretty-patterned doodles at first glance, but there's more than meets the eye.
Jones explained to me that the renderings -- some of which are contained in the form of a human bust, others look like microcosmic clusters of life -- are about two distinct things. The first is the obscuring of women, specifically the manifold roles they take on within the home and in society. Visually, these pieces have bubbles of patterning concealing the faces of each figure; symbolically, we can read it as the invisibility of these underappreciated roles, or the loads of roles obscuring the true identity of the woman.
The second thesis Jones is working with has to do with events that naturally happen on a cellular or molecular level that don't necessarily find a comparable pattern in human culture. For example, if there is a concentration of something in an area of the body, the body will work toward distribution and balance. If you consider this in economic, social, or other terms, humans haven't quite caught up to what nature has perfected. I'm kind of in love with Jones' concepts.
Something about the grand lanscapes, dreamy hues, and delicate line work of Andrea Durfee's current oeuvre reminded me of the late, beloved artist Jean Giraud's (AKA Moebius) work. But Durfee most definitely has her own style, and creates watercolor landscapes with figurative elements hidden within them. Hills and mountains contain curled-up women under moody skies, with sweeping valleys, streams, and foliage.
Durfee says she begins each piece with figurative sketches, followed by laying in the tonal watercolor, and then refines it all with the fine, geometric and organic lines. Tree lines are traced and the light-meets shadow cragginess of the rocks forms facial features and expressively laid out bodies melting into the terrain. The artist says she sees these figures as personification of the tension between opposing emotions and inclinations, and representative of our connection to our environment, our past, and each other.
I've been familiar with Jacquie O'Brien's "Cunt Cushions" -- soft pillows made of fabrics and fibers that resemble the diversity in lady parts -- as well as her Eva Hesse-esque sculpture and "Feminist Killjoy" embroidery samplers with snarky pushback to the patriarchy. But she's recently been introducing more solid media in her sculptures, such as concrete pillars and neon spikes.
Her set up at the residency includes a sewing machine, stacks of fabric, and various odd materials. O'Brien says her aim in expanding her material choices is to explore different definitions of gender identity and expressions.
The residency ends January 30, but you can visit the artists during open studio hours each Saturday between 10 a.m. and 2 p.m. A group exhibit will be held on January 30, 5 p.m. to 9 p.m. For more information, visit The Yards' Facebook page.