California-based artists Jeff Soto and Maxx242 finished their collaborative mural, "Love is Sacrifice," at the Rochester Public Market early on Tuesday. Afterward, Maxx put up a second, more traditional graffiti-style piece at Hudson Avenue and Dayton Street of just the title script from the first painting.
"It represents the sacrifices we make, when we become parents, for our families," Maxx says. "I believe that family, or home, is where everything begins -- stability, direction, everything that makes a person."
The mural at the market depicts a gaze-y woman's face with sugar-skull markings, crowned by an owl head with tree-branch antlers. This symbolic headdress flows down over her shoulders into a hilly landscape dotted with rocks and narrow prism-like spikes.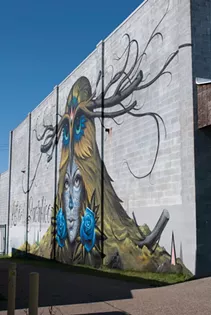 5 slides
The piece includes imagery drawn from elements of each of the artists' lives and ancestry -- cresting the owl's head are the colors of the Italian flag, and the hue of the roses surrounding her face is from Guatemala's banner.
Maxx is a first-generation American whose parents are from Guatemala, and Soto says his ancestors hail from Italy, Portugal, and various other places.
"Really for me, the piece symbolizes the ancestors who've come over to the U.S. to start a new life," Soto says.
Here and there in the mural's landscape, bits of the branch-antlers have dropped off the headdress, as though sections of the family tree are deposited in specific locations as the main line moves forward in time and to unknown destinations.
The Italian side of Soto's family settled in Avon and Geneseo about a century ago, and in the 1930's and 40's many of them moved to Rochester. Just around the corner from the mural at Hudson and Dayton, Soto points out a lot where an Italian relative's house once stood.
"I'm kind of on this quest, on a journey to paint all of the different places where my ancestors lived," Soto says.
He got hooked up with WALL\THERAPY after he reached out to co-organizers Ian Wilson and Erich Lehman, who were familiar with both Soto's and Maxx's work. In addition to both having roots in graffiti and having successful design, illustration, and fine art practices, the two have been painting together on and off for 25 years.
Soto and Maxx met in high school in a drafting class, when Soto was ditching gym class. Someone introduced them, and they quickly bonded over art, music, skateboarding, and comic books.
They began painting together again five or six years ago after about a decade-long break, during which professional careers were pursued and families were started.
Soto and Maxx say the appreciation they feel for the sacrifices of their ancestors and parents crystallized more fully when they became parents themselves. Maxx speaks of this sacrifice as a crucial redirection of energy and resources toward the new life that parents help shape.
In a way, the owl and woman portrait at the market is a kind of forward-facing Janus -- her steady gaze simultaneously embodying gratitude for past sacrifices and ready to yield what is necessary for the sake of the future.