You've no doubt encountered representations of pineapples in seemingly strange places, whether forged in brass for a door knocker or carved in the wood of an old home's staircase. The pineapple has actually long been a symbol of friendship and welcome, with major prevalence in the American South. That's why you'll also find a large, abstract sculpture of the exotic fruit in the corner of the second-floor dining room at The Revelry, the new eatery that's taken shape in the brick Huther Bros. building near the corner of University and Culver. According to Revelry founder and co-owner Josh Miles, "It's all about hospitality."
The Greenville, South Carolina, native made his bones at Kiawah Island's wildly acclaimed Sanctuary Hotel before landing in Rochester to help open Next Door Bar & Grill for Wegmans, and when he decided to create a restaurant of his own, Miles looked around the city and saw an unfilled niche for "a different cuisine, a different level of service." Miles decided upon Lowcountry food, native to his home state and borne from such diverse influences as French Huguenot settlers, Caribbean and African cuisines, Southern barbecue culture, and the bounty of seafood on the Atlantic coast.
This distinctly American mash-up makes its way to executive chef Derrick DePorter's menu in familiar yet inspired ways. Think starters like lush pork-belly sliders with pickled greens and maple mustard ($10), beet-pink deviled eggs with piquant mustard seed and smoky house-cured bacon ($7), and an eye-popping salad of wild greens enhanced by edible flowers, blue cheese, and a warm vinaigrette with country ham ($10).
Entrées are similarly imaginative, like dry-aged duck breast over smoked cheddar grits with pickled cranberries and pea tendrils ($30), as well as plump seared scallops with red pea succotash, parsnip purée, and bacon jam ($26). And that Secession Sauce gilding The Revelry's killer burger ($15)? It's spiked with bourbon, y'all.
Speaking of hooch: "We want to be one of the best cocktail bars in town," says Miles, an ambition entirely possible thanks to the gorgeously chandeliered space and Jon Karel's inventive craft libations ($10), which range from the ambrosial Oxbow, made with gin, fresh rhubarb juice, ginger liqueur, and clover-honey syrup, to the deliciously assertive Tran '84, consisting of blanco tequila, elderflower liqueur, fresh cucumber, and Sriracha hot sauce. That's certainly not to say that the other drinks get short shrift; the beer offerings showcase the best American microbreweries, and the wine program... well, you can see it for yourself, through the floor. Miles, a certified sommelier, sourced the wine list from both near and far, and its broad scope is visible through the glass under your feet as you enter The Revelry's convivial lobby.
"It's not easy turning a 180-year-old building into a restaurant," Miles says. "But it's a dream come true."
The Revelry is located at 1290 University Ave. It is open Tuesday-Thursday 11:30 a.m.-midnight, Friday 11:30 a.m.-2 a.m., Saturday 4 p.m.-2 a.m., and Sunday 11:30 a.m.-4 p.m. Food prices range from $7 to $30. For more information, call 340-6454 or visit therevelryroc.com.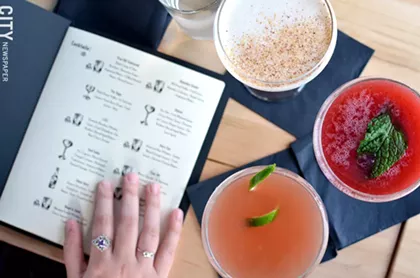 12 slides
High on the hog
If you're interested in the smart and efficient nose-to-tail way of eating, check out the Hog Butchering Workshop offered Monday, July 8, 9 a.m.-noon. at Greyrock Farm, 6100 East Lake Road, Cazenovia. You'll witness a hog being broken down into primal cuts and portions, and you'll learn the basics of making fresh sausage. Registration is $10 and the deadline is July 5; visit nofany.org for more information.
Market tips
A new farmers' market is now open Sundays 11 a.m.-2 p.m. at Affinity Orchard Place, an apartment complex located at English and Fetzner roads in Greece. Growers from the Williamson and Sodus areas will be offering in-season produce straight from their farms through November 3 at the Affinity Orchard Farmers' Market; call 225-8150 for further details, or visit affinityorchardplace.com.
They're back!
Ruby Sud has reopened Raj Mahal in the former Royal India space at 368 Jefferson Road, serving the Indian specialties that made her Monroe Avenue location so popular. Call 730-7360 or visit rajmahalrestaurant.com for more.
Captain's Attic has come downtown to the old Eros location at 37 Charlotte Street to take care of more than just your basic bar-food needs; there are also salads, soups, sandwiches, and burgers, as well as a late-night menu available 10 p.m.-midnight. Check out the menu at captainsattic.com, or call 546-8885.
The number of options for Ethiopian food in Rochester increase with the return of Abyssinia Restaurant on Thursday, June 20, to its new location at 1657 Mount Hope Ave. Ethiopian dishes are available solo or in various combos, and the beverage options include the traditional honey wine known as tej. Call 262-3910, or do some advance work at abyssinia-rochester.com.
Opening
The three-meals-a-day California Rollin', Etc. recently celebrated its grand opening at 910 Genesee St. in Brooks Landing, serving sushi and beyond, meaning vittles like burgers and smoked cornish hens. Call 271-0979 or visit californiarollin.com.
The Arnett Café is now open at 332 Arnett Blvd. and offering breakfast and lunch with a Southern flair, including favorites like shrimp and grits as well as chicken and waffles. Call 279-9639 or visit the restaurant's Facebook page.
It's Pittsford Dairy ice cream that you'll find at the new Crossroads Ice Cream, located adjacent to its sister coffeehouse at 752 S. Goodman St. Call 244-6787 or visit xroadscoffeehouse.com.
Wegmans' first foray into the Italian restaurant game is called Amore, and it's now open at 1750 East Ave. The menu features antipasti, pizzas, pastas, seafood, and more. Call 452-8780 or visit wegmansamore.com.
Chow Hound is a food and restaurant news column. Do you have a tip? Send it to food@rochester-citynews.com.
Updated 6/21/13 to correct the name of the former restaurant in the new Raj Mahal space.