The current show at Main Street Arts in Clifton Springs, "House and Home," offers achingly nostalgic looks at mostly rural environments. The works of three painters, one printmaker, and one mixed-media sculptor explore the physical structures and nebulous dreams that make a home, and together they build a sense of domestic tranquility, the passage of time, and lives earnestly lived.
Chris Baker, who is based in Weedsport, New York, and is represented by Oxford Gallery, creates near photo-real paintings in gouache.
In his work, Baker painstakingly replicates the nuances of overlooked corners and under-examined perspectives, whether a dim set of cellar steps or a bright patch of stones and plant overgrowth surrounding a bend in railroad tracks. But he also maximizes the opaque chalkiness of the watercolor medium to imbue each scene with a sense of atmosphere, effectively transforming two-dimensional planes into depthy realms of light, shadow, and subtle emotion.
In Baker's "Tree House with Prayer Flags," a broken-down play palace balances on bare and sturdy limbs in the milky dusk, with a farmhouse at the horizon, beyond fields glittering with golden leaf litter. His "Light: Above, Below" is a vignette of the starkly lit face of a building. The picture centers on the comforting warmth from one bright window beneath a cold and distant dusting of stars.
Across all subject matter, Rochester-based printmaker Dale Klein stays true to her keen interest in entropy — "the inevitability of it and the melancholy beauty of it," she says in her artist statement.
I have been mostly familiar with Klein's industrial landscapes, where steel skeletons rest in piles on the earth like great beasts excavated from another time. The work represented here hails from Klein's time earning a BS in studio art at Nazareth College in 2006, when I met her in one of Ron Netsky's classes.
"As a precursor to my interest in the post-industrial landscape of Western New York, I became interested in the rural landscapes, specifically people's homes," Klein says. She connected the decay of homes as metaphor for the lives of those people who have suffered as the state economy slipped into decline.
But the stark sepia or black aquatints and etchings are also pictures of resilience, of bare comforts, of people making do with little. The prints depict small gatherings of elders on porches, grandmothers in humble kitchens, yards crowded with tools and detritus, and old picket fences sagging under heavy cloud cover.
Sculptor Jerry Alonzo, who is based in Geneseo, is inspired by a multitude of subjects, including concepts of justice, and here, the physical environments of rural upstate New York. "I celebrate the often overlooked things around me such as that delightful stone underfoot or bird overhead, it being my intent to honor the ordinary," his statement says.
Through stripped down, mixed-media compositions of wood-block houses, carved wood elements, toy farm animals, and stones, Alonzo depicts neatly compartmentalized neighborhoods as seen from above, or rusty barns presiding over trenched fields and cattle. In his "N.E. Landscape #4," spalted maple slats undulate under bovine foot, following the rolling terrain to a series of houses.
Chicago-based painter Emily Rapport's watercolors are vivid urban scenes, united in her "exploration of what gives our modern lives meaning, beauty, and resonance," her statement says. Rapport presents the concept of home as a vessel of indicators of class and financial status, of family life, and how we want others to see us.
There is stark contrast between the domiciles depicted in Rapport's various pieces. The well-kept home in "Urban Farmhouse," with its moat-like street marked by the watery shadows of tree branches, is juxtaposed with "House with Red X," a boarded-up building with the iconic unstable-structure sign. The latter house languishes under considerably more dismal skies than the former, and the straw-colored lawn adds to the overall sense of depression.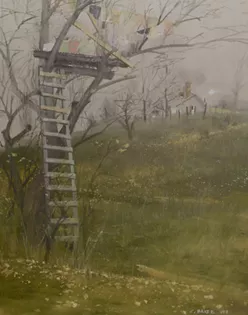 9 slides
The most conceptual works in the show come from Albany-based painter Susan Stuart, whose large-scale oil paintings have stripped the concept of house and home down to its very bones. Nearing abstraction, the paintings depict beams and rafters in a saturated spectrum of pastels. Some are straightforward structures, while others warp and twist away, ribbon-like, bordering on the psychedelic.
Stuart's inclusion of scumbling — dried bits of paint that add a rough texture, a technique employed by Lucien Freud — grounds the more fantastical pieces back into the gritty work of building a house.
"This architectural series began following a visit to an abandoned construction site at the peak of the 2008 recession," Stuart's statement says. The work conveys the complexity of the houses' armature, through layers of material, negative space, and shadows, while alluding to the set of a play. "As 'homes,' these structure now become the stage where people's lives unfold," she says.