click to enlarge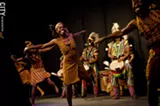 On Sunday I got to check out African performance group Mounafanyi at MuCCCC as part of the ongoing Fringe Festival. The day was overcast and depressing, a kind of grim precursor to the upcoming work week, but I was happy to find a burst of energy in the Mounafanyi performance. In fact, if I were to sum up the show in one word, it would be "electric."
The performance featured West African dance and drumming performed by the talented Mounafanyi percussion and dance ensemble, a Pan-African group based in Rochester. The group is spearheaded by master djembe player FanaBangoura, who has performed all over the world and gained international acclaim for his drumming and dance. Bangoura's thunderous djembe certainly stands out from the rest of the ensemble, and at times he belts out polyrhythmic cadences with such ferocity that you would swear that you're listening to the blasts from a 50 caliber machine gun.
click to enlarge
The performance on the whole was bursting with energy, the driving tempo of the songs coupled with the interlocking polyrhythms being carried across the ensemble creating an atmosphere of excitement and movement. At times the group would lock into rhythmic passages that were so groovy you almost wanted to get out of your seat and join the dance. In fact, some audience members did just that.
However, to speak only of the musical aspect of the show would do injustice to its visual splendor. The whole ensemble was clad in colorful, traditional African outfits which, when combined with the movement of the show, created quite a visual display on stage. The dancers were impressive as well. They kept pace with the driving music of the drums with a series of steps, jumps, kicks, and flails that made zumba look like a Sunday stroll in the park. At times, it was exhausting just to watch the dancers on stage, who looked as if they were directly channeling the energy of the drums into their acrobatic movements.
click to enlarge
All of these factors combined to produce quite the performance. A quick glance around the audience confirmed that most everybody was equally impressed, and many people couldn't help shuffling and grooving a little to the pulsating beats. On a Sunday that was a bit lacking in excitement up to that point, Mounafanyi certainly provided a much needed injection of entertainment. They put on a great performance; I'm certainly looking forward to seeing this group around Rochester.