It's that time of year when we're all looking for warm indulgences to combat the winter cold. Thankfully, Rochester has no shortage of such offerings. Below are five drinks sure to warm your bones during the winter months.
What about you? What are your favorite delicacies to warm up with during Rochester's inimitable winters? Join the conversation in this article's comment section at rochestercitynewspaper.com. Oh, and drive safe out there.


Hot chocolate at Java's
$3.50 small or $3.75 large
16 Gibbs Street | 232-4820; javascafe.com
There are no crazy flavor combinations here: Java's hot chocolate is simple, classic, and delicious. Its rich chocolate taste is creamy and decadent with just the right amount of sweetness, and the indulgent elixir is complemented by light and fluffy whipped cream. Together, these two elements are deeply satisfying, but it's made even better by the addition of chocolate sprinkles. It's the cherry on top of this warm and comforting winter drink sundae. Bonus: Hold one between your hands as you walk down East Avenue. It's better than wearing mittens.


Coffee cocktails at Boulder Coffee
$6.50-$10
Multiple area locations | bouldercoffee.info
The holy grail of winter treats is something that can keep you warm and make you tipsy at the same time. That's why Boulder Coffee is a great place to pregame on a winter weekend. The beloved shop's coffee cocktails will bring some color back to your face after venturing out into the cold. The café offers up a myriad of choices: You could keep things classic with an Irish Coffee, or try something interesting like the Café D'Orange (espresso and Gran Marnier with whipped cream and orange).


Hot mead at The Old Toad
From $5
277 Alexander Street | 232-2626; theoldtoad.com
Mead, also known as honey wine, is a traditional English drink made by fermenting honey with water. The Old Toad keeps a big warm crock of it on the bar for winter nights. This sweet drink is like liquid honey, and is almost sticky going down. Its thick consistency and smooth texture make it a comforting beverage for frigid winter nights out, so sip it slowly and let it warm you from the inside out as you take in the equally warm atmosphere at the friendly English pub.


Happy Earth Tea
From $1.50
1115 East Main Street | 451-5674; happyearthtea.com
Want to drink something that'll make you feel warm and fuzzy in more ways than one? Happy Earth Tea is a local, family-owned distributor of certified organic teas from gardens that have a good social responsibility standing. The small company maintains a local "tea studio" (Suite 228, Hungerford Building) and also sells teas at Hart's Local Grocers and several area cafes. The loose leaf teas Happy Earth sells are undeniably fresh and each variety is distinct in flavor. They pair well with cookies as you watch the snow fall from your cozy kitchen.
The owners of Happy Earth Tea request that you check the company's Facebook page or Twitter feed to confirm they are open before visiting the tea studio. It may be closed periodically due to business engagements or family events.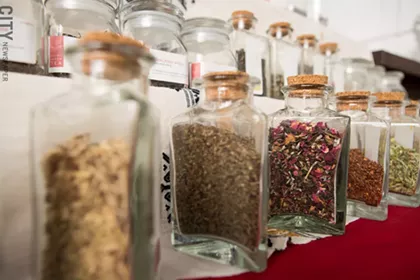 8 slides
Ginger Snap Cortado at Pour Coffee Parlor
$4
23 Somerton Street | 209-3633; pourcoffeeparlor.com
I'm the kind of person who believes strongly in specialty coffees, and Pour serves up a few that are scrumptious. The Ginger Snap Cortado is pretty much the coffee connoisseur's answer to Starbucks' bland and random Gingerbread latte. You don't have to ask if this drink actually contains any of the flavors in its name — you will know. Pour is also one of the many local vendors that sells a homey, warming cup of hot apple cider. Either of these drinks is a good bet.