Since taking the reins as director of the Memorial Art Gallery, Jonathan Binstock has made it his mission to flesh out the institution's contemporary collection with heavy hitters. This trend continues as MAG, last month, announced a new collaboration with independent consulting curator of film and media arts, John G. Hanhardt. Throughout his career, Hanhardt has helped initiate or develop the film and media arts collections of major institutions, including the Walker Art Museum, the Whitney Museum of American Art, the Solomon R. Guggenheim Museum, and the Smithsonian American Art Museum.
Hanhardt is not only a world-renowned authority on media arts, he's also an effervescent champion of specific artists within the genre. Early on in his career, he identified the value of Korean-born video artist Nam June Paik's oeuvre and worked to establish Paik's place in major American institution collections. And any time you catch a screening of one of Andy Warhol's films, you can thank Hanhardt.
Hanhardt convinced Warhol "through conversation to release his films, which he had withdrawn from circulation a long time ago," he says. Hanhardt set up a partnership with MoMA's department of film and the Whitney Museum for the catalogue raisonné of Warhol's films, the second volume of which Hanhardt now manages.
Hanhardt's inaugural exhibition of his three-year collaboration with MAG is on view now in the gallery's Gill Center space, which previously housed the interactive "Renaissance Remix" exhibit. The series is titled "Media Arts Watch," and the first exhibit, "Bodies in Space," features four film and video installations by some of the genre's greats: Bruce Nauman, Nam June Paik, Takeshi Murata, and Sondra Perry.
"Bodies in Space" is a small cross-section of intergenerational media artists. Installed outside of the gallery space, Murata's mesmerizing 2005 "Monster Movie" is the shortest of the works. The looping, four-minute datamoshing, single-channel video is a psychedelic tornado of vibrant colors that disrupts footage sourced from the 1981 B-movie "Caveman," in which the beast seems to liquefy and reintegrate as he dances across the screen to a groovy drum-and-bass tune.
Equally mesmerizing, but in a quieter direction, Nauman's 1969 "Revolving Upside Down" is a work of disorienting whimsy. To create the single-shot, 41-minute work, Nauman set a stationary camera upside down on the floor, forcing the impression that he's positioned on the ceiling. Stripped of sound and color, the video snares the viewer's focus entirely upon Nauman's performance of slow, strange movements.
The most recent of the works, Perry's 2013 "Double Quadruple Etcetera Etcetera I and II" is shown on two massive screens positioned across the gallery from one another. The silent, nearly 10-minute work is bright and eerie, depicting on each screen a figure isolated in a white room, engaged in a furious convulsive dance. The room itself echoes the figures' restlessness, as the silhouette of each dancer frames a jumping, shifting view of that environment.
Paik's 80-minute, 1969 work, "9/23/69: Experiment with David Atwood," is actually a record of a spontaneous composition performance that he broadcasted live while an artist-in-residence at WGBH, a public-television station in Boston. In collaboration with engineers, musicians, video technicians, and fellow artists, Paik blended televisual and musical scores, creating electronic abstractions of shifting color and trippy imagery.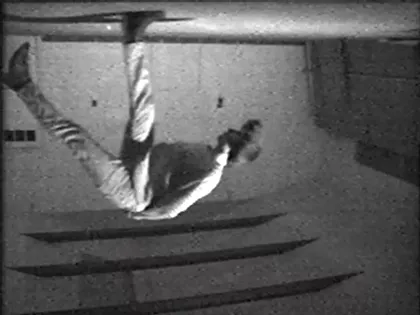 3 slides
Hanhardt's gig at the Memorial Art Gallery is something of a homecoming. He attended Brighton High School, and after graduating from the University of Rochester in 1967, he went on to earn a master's degree in cinema studies from New York University.
From there, Hanhardt established the first Film and Media Arts collection and exhibitions program at Minneapolis's Walker Art Center. In 1974, he was appointed Curator and Head of the Film department at the Whitney Museum of American Art, where he stayed for 20 years and expanded the department to include video, made the selections for 10 biennials, and held a Paik retrospective.
During his decade at the Guggenheim Museum as a senior curator for film and media arts, he established its global program and commissioned major work. At the Smithsonian American Art Museum, he founded the Nam June Paik Archive and Media Arts Center, built the institution's film and video exhibitions program, a designated gallery, and hiring of a curator.
"I've always wanted to work in a university art museum, for its smaller scale and its direct connection to the academy," he says. But when Binstock approached Hanhardt, he didn't realize Rochester was his hometown.
"Rochester was very important to my career, and my involvement an engagement with the moving image," Hanhardt says. He cites the George Eastman Museum's founding film curator James Card, who established the institution's film collection, and George Pratt, who was Card's first curator, as major influences on his own trajectory.
Editor's Note:
This story has been updated to refelct that the Memorial Art Gallery's exhibition series is called "Media Arts Watch," not "Experience Media Arts Watch." We regret our error.