In the age of computers streamlining everything into smaller units, "National Teen Set Outsider" is fighting back as a punk-rock backlash against a strictly online age. Started in 2010 by Will Carroll — a blue-haired, pompadour wearing, jovial man, usually seen in a studded leather jacket — "Teen Set" offers Rochester a unique brand of independent, physical press. Its main outlet comes in the form of a zine, a small magazine, usually written by "non-professional" writers, but focusing on a specific subject. In this case, Carroll focuses on Rochester's punk culture, incorporating a no-holds-barred method — comic strips, editorials on local issues, and stories about people in town that you may, or may not want to know.
Black eyes, vomit bags, rock 'n' roll glory and failure, back alley debauchery: all glorified as a spectacle — a part of our city that is real and important. The zine itself is small in size, about 3 by 5 inches, and has a variety of colored covers. Its illustrations are playful, changing the dialogue in traditional strips, while also creating original characters that have become staples in Rochester's punk scene. Given the right show, event, or costume party, you may see someone dressed up as one of Carroll's original illustrations.
City Newspaper recently sat down with Carroll to talk about "Teen Set's" different outlets: show promotions, DJing twice a week at the Bug Jar, and most recently, the changing of the zine's name. An edited transcript of that conversation follows.
City: When and why did you start making zines?
Will Carroll: Initially it was due to a pizza shop burning down and police only letting people from the "media" take pictures of it. So I simply became the "media" that day and haven't looked back since.
How did you get the name?
The "Outsider" part is obviously a play on the "Rochester Insider" as I stood against the modern-pop culture they stood for. The "Teen Set" part of the name was homage to 60's culture.
You recently changed your name from "Rochester Teen Set Outsider" to "National Teen Set Outsider." Why did you change it?
Over the years I've considered dropping the "Outsider" as the "Insider" is long defunct. However, the word "Outsider" has punk and rebellious connotations so I kept it around. I changed to "National" to further my war against the death of print media. As much love that I have for the locals, my battle cry against how media is ingested won't be heard as loudly making fun of Buddy Budinski and local goof-balls.
Where do you see Teen Set in 10 years?
I hope to be nationally known for bringing weird stories to an appreciative audience. I want to be known as someone standing up for physical media in a world that shuns it more and more every day.
You obviously are invested in the Rochester community via your continued involvement in the scene. What in Rochester do you care about; and what would you like to see change?
I think Rochester has an overabundance of creative, talented, and delightfully miserable people that are only held back by their environments. This is a special place that is like none other. So many record stores and people bending over backwards to create cool things despite the setbacks of being in a small city. I would like to see more small businesses and less gentrification. That makes it hard for independent businesses to thrive. Oh yeah, and more punks.
What do you think about Rochester's zine and music scene? How are they connected?
They go perfect together. Personally it's been my way as someone who can't play an instrument to be a major part of a music scene that I love and cherish. Great bands and shows can happen, but if there are no photographers or writers to document them, something is lost to time.
Where did you get the idea to create staple comic strip characters?
45 Kid is a mascot for my DJ night. Fookin Poof was created by James Von Sinn and is the most likely cartoon to be seen in Teen Set; he is a homosexual, leather daddy, drunken punk-rock teddy bear. Nice Bear and Cool Fox are my hopeful claim to fame. They go on adventures and I've released several comic books. I hope to someday sell them to cable TV and do a PeeWee's Playhouse/Mr. Rogers type show with them.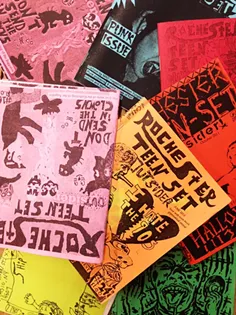 12 slides
You have been spinning records and booking shows at the Bug Jar for almost four years. Have you stuck with the Bug Jar because it's a steady gig, or is there something more about that venue that represents "Teen Set"?
Bug Jar will always be my home away from home. It's a great feeling to be appreciated somewhere for doing something that's fun to do.
"Teen Set" is a zine, DJ, and a show promotion outfit. Is there more that you do for "NTSO"?
I've also been jumping into the art world, and I sold a painting this year. I'm super proud and humbled that someone would buy and display something I painted. I try to incorporate everything I do together because one thing is never enough. Also, most of the money for all of this comes by selling pins of all sort of obscure things.
What inspired you when you were young? What inspires you now?
A major inspiration now is "Peanuts" comics. My entire life I skipped over the work of Charles Schulz, and only this year did my opinion change. I used to think it was watered down and now I see it as pure genius. The fact that I missed out all those years inspires me to keep searching for new things.
To you, why is what you do important?
Art will always separate the normal everyday slobs from those who stand out in a crowd. I want to inspire others to think outside the box and not be afraid to try something horrible.