Cirque du Fringe's take on Mardi Gras played to a packed Spiegeltent on Thursday night, and was a thoroughly entertaining trip.
Old-timey clowns Tyler and Carl were the informative and charmingly abrasive hosts of the 20 Penny Circus, providing humorous banter and historic tidbits about Fat Tuesday between daring acts by the Kenya Safari Acrobats, who delighted everyone with B-Boy-style acrobatics.
The interior environment of the tent was darkly colorful and festive, and our group thought it could only be improved upon if somehow the whole circular space began spinning, carousel-like. The show was a combination of silliness and daring -- at one point the clown-hosts enacted a unique form of sleight-of-hand, which entailed a slightly bewildered volunteer girl stapling Tarot cards to each of their bare bellies.
The acrobatic troupe made efficient use of the tight, central, circular stage. The brevity of each energetic act made some of the more physically-tasking ones feel even more incredible. One beautifully built acrobat climbed and balanced precariously as he constructed a chair tower that reached for the big top. A cute, sassy dancer was there for the averted eyes of anyone too frightened for the acrobat. He later topped himself with another harrowing building-balancing act, this time on a layered tower, each of four levels supported by four beer glasses, all of which on a shifting base of a rolling cylinder.
After an energetic and stylish hat juggling act, this same diverting lady dancer later manifested, delightfully curvaceous in menswear, to tease the audience with a dramatic dance to "It's a Man's Man'sMan's World" while she proceeded to bend pieces of rebar over her pretty neck, her powerful hips, and even a piece she held in her clenched teeth.
A very dance-y but seemingly straight-forward game of "limbo" got interesting when the ante was upped -- or rather, lowered -- by a foot each at every go. The act climaxed with the pole not six inches from the ground, and on fire.
The show wrapped with a joyful session of singing, dancing, and intermittent acrobatics, with the rebar-queen forming the base of several reverse-pyramids of men. She might be literally the strongest woman I've ever seen in person, and her feats brought on an organic standing ovation before the end of the show was even announced.
Cirque du Fringe will perform again on Friday, September 19, at 9 p.m.; Saturday, September 20, at 2 p.m. and 7 p.m.; Sunday, September 21, at 4 p.m. and 7 p.m.; Monday, September 22 through Wednesday, September 24, at 7:30 p.m. each day; Thursday, September 25, at 7 p.m.; Friday, September 26, at 7 p.m.; and Saturday, September 27, at 2 p.m. and 7 p.m.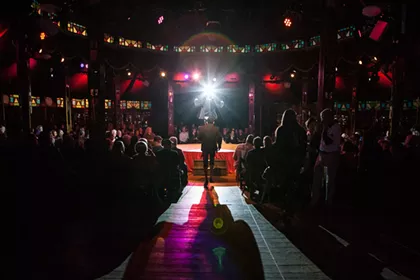 15 slides