The two ladies who comprise "The Steele Sisters: Comedy Sword-Fighting Show" gave the kind of playful, riotous performance that makes you wish they were your buddies. Gwendolyn and Gertrude Steele, dressed in fanciful layers of medieval garb, took the stage at Blackfriars Theatre and revved the audience into a participatory frenzy with a few playful false-starts before actually beginning the show.
Through silly antics, squabbling laced with intermittent sword-fighting, and loads of hammy asides, we learn that the two rivaling sibs have been booted from daddy's home for some misbehavior or another. With the family inheritance at stake, the gals are engaged in a race to wed first, and to make matters worse, have targeted the same man, whom they selected from the audience. The three then proceeded to play off one another so smoothly and hilariously that I couldn't decide if the gentleman was a plant or a performer in his own right.
Some crowds can be reticent to show amusement, much less contribute to the show, but these ladies were in control. At one point, the sisters had a dozen participants on the stage shaking their butts, all while charming cheers, jeers, and sad trombones from the rest of the crowd. I was constantly giggling at the ladies' bawdy and hyperbolic one-upping of one another, and the exaggerated pouts from one when the other gained the audience's support.
Catch "The Steele Sisters" on Wednesday, September 24, at 7 p.m. or 9 p.m., the latter of which is a pirate-themed show. Tickets are $16.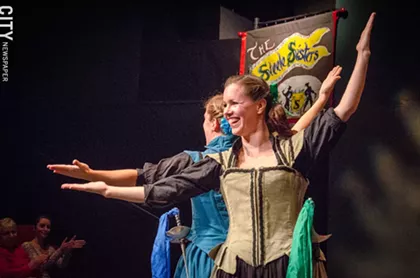 16 slides
A bit later on, I made it over to MuCCC to take the soul-searching journey that is "The Nameless Days of Gumdrop Smith." Penned and directed by Kate Royal, this 90-minute one-act production by Building 9 Theatre premiered Tuesday evening. And what a beautiful beginning it was!
How we think about ourselves shapes our reality, but whether we go with the shifting flow or resist reinvention, we never truly remain the same person through our entire lives. In this play, the catalyst for shift is the act of naming.
As Gumdrop embarks upon a new relationship with a man named Diesel (Liam Enright), the androgynous protagonist reveals that (s)he has been given a fresh start with the sort of bright and energetic enthusiasm that would make any Whovian grin inwardly.
We learn that on each birthday, Gumdrop's parents (Carl Girard and Nicole Cupo, who each play three supporting characters with equal precision) gift their child a new name, based on their current whims. It's up to Gumdrop to then discover who the name is, what he or she wants, and spend a year in pursuit of it. Gumdrop is unflaggingly happy, and Diesel is captivated, but before long, he expresses dread as he begins to understand there are no guarantees about his future with such a creature.
At Gumdrop's next Naming Day, his fears manifest in a clever and disconcerting way. After a year passes, it's our protagonist's turn to experience some bewilderment -- with the death of the parents, all the future names were lost as well. Nameless, Gumdrop describes the following year as the worst kind of purgatory, but it's more like limbo.
Though dressed and coiffed similarly, there was enough variation in how Melyssa Hall and Rusty Allen shared the title role to show that a shift deeper than name and identity is taking place. A fundamental growth in philosophy is necessary, but takes a while to fully birth. Along the way, lonely, Nameless Gumdrop emboldens a variety of aching characters by suggesting they create a new name and new identity for themselves, without hearing the irony in the advice.
Gumdrop ultimately learns that the rules (s)he has been following are just as limiting as the ones that ensnare most others, and is saved by a solution worked out in the magical space between autonomy and a love that persevered through the dark space of unknowing.