Even if you're unfamiliar with the name Milton Glaser, you've definitely seen the renowned American designer's work. Glaser is the man behind the ubiquitous "I Love New York" logo, and has designed countless arresting posters, packaging, publications, and environments. Through February 26, RIT's University Gallery is holding an exhibit of 24 of the 60 Glaser posters collected by the Vignelli Center for Design Studies.
"We are very fortunate to have Glaser's iconic posters in our collection," says R. Roger Remington, Vignelli distinguished professor of design at RIT. "They represent his artistic genius and they add tremendously to the creative environment on the campus."
The posters were added to the Vignelli Collection in 2014. Glaser was a contemporary and a friend of the late Italian-born designer Massimo Vignelli, and before Vignelli died in May 2014, he spoke with Remington about the designers he thought RIT should exhibit and possibly add to the collection. "Glaser was on the list," Remington says. "So I contacted him, and he was very gracious about sending a number of his posters for the collection."
Included in the exhibit is Glaser's famous Bob Dylan poster, which depicts the musician in silhouette with a shock of colorful, psychedelic, wavy hair. This work was included in the packaging when Columbia Records released "Bob Dylan's Greatest Hits" in 1967 — some lucky folks still find that record, with the original poster in the sleeve, when digging for secondhand vinyl.
The show also features a poster Glaser designed for Sony in 1979, which advertises the "Full Color Sound" of Sony cassette tapes by illustrating rows of musical staffs with blocks of color and landscapes, sort of an expression of a synesthesia experience.
Other images advertise programs at the School of Visual Arts in New York, where Glaser has taught classes for more than 50 years, and currently serves as acting chairman of the board. The post-9/11 remix on his "I Love New York" logo — which reads "I <3 NY more than ever" — is also included.
Much of Glaser's work was created in tribute to other artists of different genres, or challenging, philosophical commentary on creativity itself, each flavored with his clever and engaging visual twists.
"There's a fairly wide and interesting range of subject matter that's evident in the posters," Remington says. "Some of them are more commercially oriented, while others are more culturally involved," in terms of publicizing exhibits of artwork. "I think that's what makes the exhibit interesting, the range of the subject matter, and the range of ways that he as an artist and illustrator has treated the subject."
Glaser's work has remained handmade, even as the design world utilized computers more and more. Notoriously critical of this shift, the artist famously quipped, "Computers are to design as microwaves are to cooking."
Remington says the poster collection is very representative of Glaser's particular brand of creativity. "Certainly, whatever he does, I think, has a certain touch and a style to it that's very much his, so it's easy to recognize his work," he says.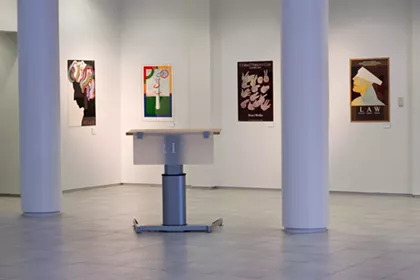 7 slides
Though Glaser is not a typographer, he created eight fonts, including "Baby Teeth," which is featured on his Dylan poster, and was inspired by a hand-painted sign he saw in Mexico.
Born in the Bronx in 1929, Glaser became one of the most prominent American designers in the last half of the 20th century. In 1954, he co-founded Push Pin Studios, a graphic design and illustration studio that became a guiding reference in the world of graphic design. Glaser co-founded New York Magazine in 1968, and officially launched his brand, Milton Glaser, Inc., in 1974.
He's had solo shows at the Museum of Modern Art and the Georges Pompidou Center, and was selected for the lifetime achievement award of the Cooper Hewitt National Design Museum in 2004 and the Fulbright Association in 2011. As a Fulbright scholar, Glaser studied with the painter Giorgio Morandi in Bologna and is a spokesman for the ethical practice of design.
In 2009 Glaser was the first graphic designer to receive the National Medal of the Arts award, which was presented to him by President Obama. And at the age of 86, he's still a prolific designer today.
"To the best of my knowledge, it's the first time there's been an exhibit of Glaser's posters in Rochester," Remington says.
The Vignelli Center worked with Wendy Marks, managing director at the University Gallery, to present the exhibit. "We're physically neighbors, so we try to collaborate with them quite a bit in terms of exhibits," Remington says. "Sometimes, such as this Glaser exhibit, it's work from our collections, sometimes we will generate exhibits that are special that we don't have in our collections, and from that project we'll establish a connection with a given designer, and get a donation of work, such as the Pierre Mendell posters we had last year."
Remington says that the University Gallery has become a popular location for speeches, talks, classes, and other RIT events that "bring people into contact with the exhibited work who probably wouldn't come there otherwise." One of the Vignelli Center's goals is design advocacy, "so we work pretty hard in a number of different ways to offer our expertise in terms of exhibits and projects that reach into the community" he says. "The exhibits that are shown there are really high quality, and complement the high quality of the exhibited work adjacent in the Vignelli Center."
The Vignelli Center is planning an exhibit of the work of New York photographer Ryszard Horowitz for the coming year.