Hundreds of people found shade wherever they could in Washington Square Park for Saturday's Families Belong Together rally. The protest, co-hosted by 20 local organizations, was a response to the Trump administration's zero-tolerance immigration policy — especially the practice of separating parents and children at the US border — and a call for solidarity with refugees and immigrants.
The rally came after several major actions by the federal government in June, which have dramatically increased an already high anxiety level over immigrant and refugee rights. While on paper the Trump administration's practice of separating families at the southern border has ended, more than 2,000 children haven't yet been reunited with their parents. And last week the Supreme Court upheld President Trump's travel ban, which targets several predominately Muslim countries. The ruling has some in the region's Muslim community concerned that they won't be able to reunite with their own families seeking refuge in the United States, says Tabassam Javed, president of the Islamic Center of Rochester.
Saturday's Washington Square Park rally was part of a national day of action organized by Families Belong Together (Familias Unidas, No Divididas), a group that began holding events and rallies around the country in early June. Some 750 protests took place, bringing out hundreds of thousands of protesters calling for the reunification of families separated at the southern border. Despite the day's heat, hundreds of Rochesterians turned out to hear speakers who included farmworkers, local immigrant-rights advocates, and members of religious organizations.
"We're in a political moment where people's rights to family and community are being systematically attacked by our immigration system," said Sara Curtis, who works with the Worker Justice Center of New York, the Rochester Rapid Response Network, and Alianza Agricola, an immigrant farmworkers group. "Immigration and Customs Enforcement partners with Border Patrol and local law enforcement to separate families every day, across our country, from the southern border to our own local region."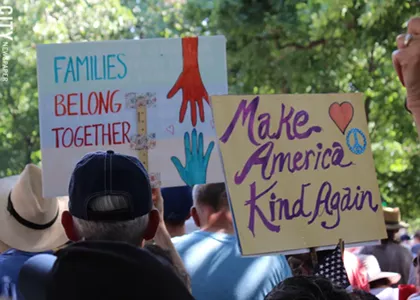 8 slides
The crowd was packed with signs calling for the abolition of ICE, rallying people against creeping fascism, and asking "Where are the babies?" Several participating organizations set up tables to pass out information about their work, and volunteers wereregistering people to vote. Many protestors wore shirts with hand-painted "I really do care. Do u?" lettering, a riff on Melania Trump's jacket.
Speakers talked about the need to fix the US immigration system, the importance of voting in the upcoming midterm election, and how to support impacted communities in Rochester.
The zero-tolerance policy "only serves to make crueler the suffering of those who seek hope, despite so much violence and a lack of justice in our countries of origin," said HormisBedolla, a farmworker, through an interpreter. Bedolla said her husband was detained by ICE after getting their two youngest children onto a school bus. He spent five months in jail and is now facing a deportation order, which would send him to Mexico, the country he left 30 years ago.
"Just like my husband, our family feels incarcerated by the separation we all endure," Bedolla said. "How do you explain to your kids that their father did nothing wrong, but he's in jail?"
Several signs also showed support for refugees in reaction to the Supreme Court's recent 5-4 split upholding the Trump administration's travel ban. There are around 25,000 Muslims in the Greater Rochester Area. In an interview last week, Tabassam Javed said that many in the Islamic Center's congregation are angry over the decision, but they aren't afraid because they know their rights. Still, he said, there is concern over families being reunited, especially in the refugee community. Many in the congregation are from countries listed on the travel ban, he said, and they're now worried about other family members who have applied for entry into the country.
"The promise of America has always been family unification," Javed said. "Right after World War II onwards, the waves of immigrants who came and contributed always were able to bring their family."