When many of us travel, we are ushered around carefully preened and planned channels that brush against but never penetrate the world known by the locals. And the exotic versions of the place offered to visitors are rarely experienced by the actual residents. This is the consideration behind Barbadian artist Ewan Atkinson's "The Neighbourhood Project." Elements from Atkinson's project are currently installed at the University of Rochester's Asis Gallery.
"For the past decade I have been working on a large project that develops narratives and experiences within a fictional neighbourhood," Atkinson says in an artist statement. "Using The Neighbourhood as an object of study, I examine the production of meaning and the contentious role of the individual within boundaries that might define a community. As "The Neighbourhood" expands so does the capacity to examine a wide range of issues within this framework.
A grid of a dozen posters is installed on the wall of the gallery, full of colorful imagery and text meant to entice the audience to come discover the pleasures and diversions of the arcane destination.
But nothing is clear about the advertisements -- not The Neighbourhood's location, not the curious characters who reside there, not what entertainments await the visitors.
"We have your number!" declares one poster, with a bearded man dressed up in colorful skirts and scarves. In another, a man in a frock and Pollyanna-like wig pouts under an illustrated rain cloud, promising that "bad weather is almost always temporary or insignificant."
"Idiosyncratic allusions in image and written word may defy translation," Atkinson says. Another image entreats visitors to "escape today" to the safety of all possible playgrounds," while a woman straddles a dismal-looking wall strewn with broken glass.
The idea of collective identity or experience is challenged by these contradictory images. "The posters are ambivalent, they extend an uneasy invitation," Atkinson says. "They present images that question the relationship between the visitor and the resident, and the representation of cultural practices as an exotic commodity, among other things."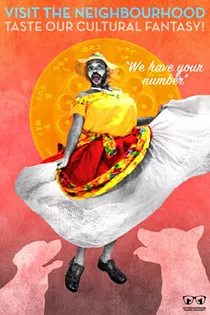 5 slides
The original context of the work was the 2015 Havana Biennial, where Atkinson represented Barbados as a participating artist. His engaging posters are self-conscious of their role as ambassador, highlighting the nature of tourist-based economies, and the bearing that nature has on our perception of place. They ask Biennial-goers to more deeply consider their impressions of the environment they're visiting.
"The Havana Biennial's curatorial focus aims for public interaction and by extension, inclusivity," Atkinson says. "Influenced by questions of inclusivity that surround the development of tourism in the Caribbean region, I have produced a series of posters that advertise The Neighbourhood as a tourist destination."
Biennials themselves operate as initiatives that might encourage tourists and economic gain, he says, and through his work he seeks to raise important questions about inclusivity and exclusivity regarding that gain.
When we consider the locations chosen to host the Olympics, and the resultant displacement of impoverished locals in order to house athletes and spectators, we also see that the negative impact of tourism is unequally distributed.
To engage the public, the posters were displayed on city walls, ready to be stumbled upon. There are both Spanish and English versions, "symbolically invading the space while attempting to create a connection with both local and visiting audiences," he says.
Significantly, it is not possible for anyone to physically visit The Neighbourhood. The cartography of the place is purely imaginative, and the complicated paradise is unreachable.
"Out of this kind of imagined image come different but connected reasons to perpetuate fantasy for individual, communal, or national purposes," Atkinson says.
Adam Werth, who is teaching a professional development class to UR art students, brought this small exhibition to Rochester with his students in mind. His concern is not only exposing emergent artists to international art, but also to highlight how some artists work across media to deliver a message.
"One of the things I really like about Ewan's work is that it's multifaceted," Werth says. There's different dimensions to it."
There's the digital posters, made in Photoshop from Atkinson's photos and watercolor paintings, and then there's the performance aspect of this, where he's dresses as some of these characters and performs the role in public.
The "girly-man" character references the Mother Sally figure from Caribbean culture as a part of Carnival, Werth says, but he also addresses cross-dressing and some of the lesser-discussed topics in that region, such as homosexuality or transgenderism.
The work references other artists, whether it's the Rousseau painting or the madcap references to Wes Anderson films. And there's an activism element, a storytelling element, and a propaganda element.
"Ewan transcends the idea that an artist is someone who does one thing," Werth says. "He does so many different things, and I think that elevates the effectiveness of the work."
Werth has known Atkinson for about eight years. They met when Werth was chair of the bachelor of fine arts program, head of the printmaking department, and director of the gallery at Barbados Community College. He was also present for the beginning stages of Atkinson's project.
"These artworks are related to that idea of inclusivity and exclusivity that's a part of the artist statement for the Havana Biennial," Werth says. "But these are transferable to other neighborhoods and communities that deal with the same sort of tourist structure. Where tourism is a commodity, the place becomes a commodity."
Also present in the gallery is a letter -- written by Atkinson under a writer-character's name -- that references elements from each of the posters while making fascinated inquiries into the idiosyncrasies involved in the adverts. In the driest of humors, the letter mocks tourism that exploits a people and a place through exoticism of foreign culture.
The broken-glass playground poster references that "in a lot of third-world places there's this rawness, this under layer of poverty," Werth says. "At the same time, it needs to be polished, a space that is considered to be paradise."
"The work is very personal," Werth says. "I'm always critical of students wanting to do purely self-referential work. You can do that, I think, if you can make it transcend, relate to other people. If you're just telling me a story about you, I probably won't be engaged for very long. It's not that I don't like you, but I'm looking for something that transcends the self; that other people can find something in common with."
These particular posters were printed locally from digital files that Atkinson sent to Werth, with permission to put the posters into the public space after their turn in the gallery setting. Werth plans to document this second, scattered installation, and send them to the artist for use on his website.
A closing reception, with food catered by The Peppa Pot, will take place on Tuesday, December 1, 6:30 p.m. to 8 p.m., at Asis Gallery.
To learn more about The Neighborhood, poke around Atkinson's meandering website at theneighbourhoodproject.com.