It is cold after all, and rather then complain, City took the time to celebrate and reflect with a visit to Cat Clay's Winter Warmth fundraiser and to Central Library for a presentation on indigenous dance.
On Friday evening, Cat Clay brought artists and the community together with more than 200 handcrafted bowls that were paired with soup mixes from Healthy Sisters Bean and Soup Project to benefit the Catholic Family Center. Artist Stephanie Krist also had an assortment of ceramic pieces on display that people could view while waiting in the soup line.
"Daystar: Bodies In Motion" brought Rosalie Jones and Stephanie Moore to Central Library on Saturday afternoon where they not only performed three indigenous dances, but took the time to explain the origins and traditions of the movement and clothing. Those brave enough were encouraged to participate in the Snake Dance.
Check below for a slideshow from the weekend's events, and a video of a dance from "Bodies in Motion."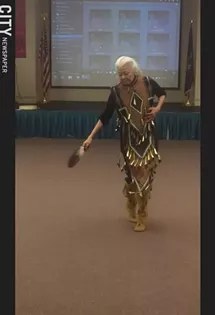 7 slides