City Newspaper last weekend stopped by City Hall and traveled out to the Village of Spencerport for its Canal Days Festival.
City Hall's Link Gallery is currently displaying Frank Liberti's photography, which features panoramic views of Rochester's architecture and everyday life on aluminum plates. His high contrast, wide-view shots gave visitors a new perspective on iconic locations throughout the city.
On Sunday, we went out to Spencerport Canal Days to peruse the vendors and watch the recently approved "Canalagator" race. Earlier this year event organizers were facing a state law that prohibited groups from holding raffles on New York-controlled lands -- which includes the Erie Canal. But in July, Governor Andrew Cuomo announced that charitable organizations would be allowed to continue their duck derbies.
After carriage rides, food trucks, and wine tastings, we went down to the canal as volunteers prepared to toss a thousand rubber alligators over the side of the Main Street bridge.
Check out photos and video from this weekends events below, and follow @roccitynews on Instagram and Twitter for live coverage of events.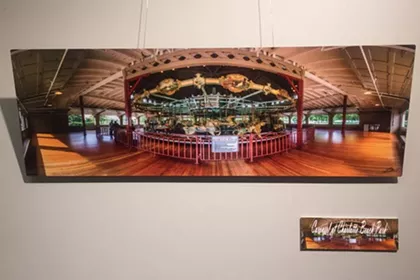 6 slides