This weekend (really, an extended weekend) was a mixture of new and old with an emphasis on fall traditions. We saw new trends on the runways of Fashion Week of Rochester as well as heard age-old tales of past lives during a Torch Light Tour in Mount Hope Cemetery.
On Friday night, we stopped in for the "We are Family" show put on in the Tent on Main Street. There was a mixture of individual designers -- like the young Amber Yokano and Sofie Cerankosky, who debuted new hand-created lines -- and boutiques and department stores, like Chandelier and Von Mour.
Tuesday evening's venture into Mt. Hope cemetery did come with a nice surprise. Not only did we hear the story of Susan B. Anthony, but we also heard the death tales of those with unmarked graves as well as those with huge family memorials.
As we neared the iconic 1862 chapel, the group found the doors open and the inside lit. The exclusive inside view of the chapel was only available during the Torch Light Tour, as the building is not yet safe for wanderings, but the intricate detailing and ambiance added to the old-world experience.
Check below for a slideshow from the weekend's events.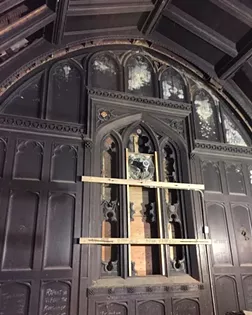 8 slides