Oxford Gallery's current show, "The Heart's Unrest," features the cheerfully colorful work of Buffalo-based artist Charles Houseman and Rochester artist David Dorsey, and provides the perfect mental escape while Rochester's weather decides if it's springtime or not.
Gallery director Jim Hall says he pulled the show's title from a quote by Austrian physicist and philosopher Friedrich Waismann, who was a key theorist in the school of logical positivism. The full quote is "The heart's unrest is not to be stilled by logic," and it follows an argument Waismann makes about the worthiness of the undying, human urge to wonder — regardless of our capacity to unveil life's mysteries to reveal meaninglessness.
This desire to discover underlying meaning walks hand-in-hand with our urge to create. In her book, "On Beauty and Being Just," contemporary thinker Elaine Scarry states that beauty, in particular, "seems to incite, even to require, the act of replication." Beauty "brings copies of itself into being," by making us draw it, take photographs of it, or describe it to others, she says.
Many artists might make the same claim, as they obsessively perfect their craft of replicating — or interpreting — this world. There's certainly a wealth of beauty represented, even from unexpected sources, in this show.
Charles Houseman's oil paintings are full of lush garden scenes as well as minutiae of flora, fauna, and statuary. They are moody, empty Edens — still except for the shiver of foliage or the stirring of a wing. In "October Cloak," he captures the corner of a pergola, half wild with a twist of vines. The leaves are turning color, and wispy branches scratch a shifting sky.
Many of these gardens are historic, standing on the grounds of former mansions and manors. Perhaps part of the pleasure in strolling through them is derived from the knowledge that they were formerly private spaces; nature manicured by money and closed to all but the owners and their company.
In Houseman's "Rock Garden, Eastman House," the full, orange fire of a great tree in autumn dominates the top half of the picture, and is separated from the verdant, still green grounds by the cool shade of the pergola.
Some of Houseman's selections contain temple-like worlds, mirrored in a central pond ("Vanderbilt Garden I (Gilded Age)"), others transport us to the tropics. In "Greenhouse, Sonnenberg," Houseman focuses on a pale putto presiding over an indoor island of foliage, the walls and ceilings dissolving in a mist of humidity.
The monstrous "Canna Lily, Sonnenberg" spotlights a peacocking, towering, flowering plant, brightly sunlit and gloriously waxy amid field of shorter and more delicate flora. This work alone evokes a full-on longing for the bliss of midsummer.
David Dorsey's oil paintings focus mostly on interiors, whether strikingly perfect table-top still-lifes, or human and animal skulls unsheathed by entropy.
In "Begonias, Peaches, and Salt Shaker," light-as-air blossoms are juxtaposed with substantial fruit, round and fiery like twin suns. Dorsey likes to pair petals with silver surfaces, and through evidently tireless efforts, has developed intimidating trompe l'oeil skills.
Dorsey's treatment of plants is so majestic, alive against subdued backgrounds, each element chosen to complement one another in shape and color. In "Eggplant and Bok Choy, he imbues the leaves with a juicy inner light. Veggies snuggle in "Radicchio and Peppers," with a bit of purple reflected in the knife blade lying next to them.
I don't know if this counts as synesthesia, but several of Dorsey's oversized images of food — particularly sweet and tart foods of fruit pastries and berries — sparked a guilty spike of salivation. His "Glazed Tart" is a massive, mouth-watering cluster of sugar-sheened fruit bits on a crumbling crust. "Blueberries" is a colossal mound of bruise-colored fruit in a pie tin, the million folds on the lip perfectly rendered.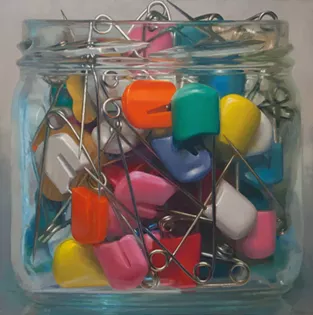 3 slides
Dorsey doesn't favor subtlety. In "Minotaur," a behemoth dump truck dominates the tiny linen as it navigates blacktop pathways. "Breaking Free/Cutting Loose" is a huge portrait of a jar filled with colorful diaper pins, packed with the double tension of coiled metal and exposed points.
A few works feature highly detailed skulls, the forms and intricacies masterfully recorded. A cow skull is balanced on the base of the skull and a ridge of molars, creating a sort of bone bridge. In "Baboon," the chosen angle shows off the close-set eyes and long snout, simultaneously spotlighting what is familiar and alien, what is similar and dissimilar between human and non-human primates.
Though Dorsey's paintings of skulls are more aesthetic studies of natural forms than strict memento mori pictures per se, it's hard to view the human remains in "Vanitas: Skull Unearthed Circa 1930" without the creeping consideration of our temporal nature. Having lost some teeth along the way, the silent, almost grotesque grimace contrasts sharply with the fresh, bright light seeping through the window. Any reminder of what lies beneath the surface is a reminder to be present while we are present.
Almost as an answer to this pondering, the sole portrait included in the show, Dorsey's "Portrait of a Young Woman," is out-of-focus. A lovely young woman's face is in slight shadow, hazy as a reverie, but so is her inward, distracted gaze. The effect of staring at her is almost like being with someone, but both of your attentions have drifted elsewhere.