After years of planning and quite a bit of controversy, Rochester's transit center has opened to mostly positive reviews from regular bus riders who say that they appreciate the building's warmth and amenities.
Apple co-founder Steve Jobs would approve of the center's high-tech functioning yet simplicity of design. Large touch screens let passengers plan their routes, while design elements work together to encourage movement and discourage loitering.
Transit activists still have a few issues with the center and with the Rochester-Genesee Regional Transit Authority, but they say that the center turned out better than they expected.
And Heidi Zimmer-Meyer, president of the Rochester Downtown Development Corporation, says that the center, the redevelopment of the Sibley building and Midtown, planned improvements to Main Street, and other projects could transform downtown.
But the center has not been able to escape the one problem that almost everyone watching the project saw coming: youth acting out. Many people expected the turmoil at the Liberty Pole to follow the buses to Mortimer Street, and that's exactly what has happened.
The most recent incident: a fight outside the center was recorded and went viral, prompting local officials to blame one another for the outbursts and for the city's paralysis on this longstanding problem.
The issues that the center's customers and constituencies raise about the transit center tend to be relatively minor, such as people cutting through the bus tunnels, or riders being allowed to exit only at the rear of the buses (though that guideline has been relaxed, says Bill Carpenter, CEO of RGRTA.)
Some also resent the absence of a crosstown bus, which means that they have to pay more because they must now transfer at the center.
Stephanie Woodward, director of advocacy for the Center for Disability Rights, points out that while RGRTA built a $50 million transit station, it also cut paratransit service, leaving approximately 20 disabled people without transportation.
"Everyone deserves a great transit center," she says, "but that doesn't mean it should come at the cost of people with disabilities being stuck in their homes."
And Woodward says that disabled people should be able to get on the bus first to avoid getting caught in the crush to board. It's a policy that she says she's seen in other cities and would like to see implemented in Rochester.
Mike Governale, co-founder and president of the advocacy group Reconnect Rochester, says that the transit station is a major step forward for Rochester. But other steps need to follow, he says.
Most riders don't board their buses at the transit center, Governale says, and amenities need to be improved at stops around the city. Riders would benefit from heated shelters, he says, as well as adequate trash receptacles and seating areas.
"We've paid a lot of attention to Main Street and downtown," Governale says. "I think it's time to start paying the same attention to the rest of the bus routes and bus stops."
RGRTA CEO Carpenter says that shelter improvements are a matter of money. State and federal funds have been essentially flat for several years, he says, and the organization's first priority is to "drive as many miles as we can."
Regarding the paratransit cuts, RGRTA board chair Jim Redmond says that the earlier boundaries for service were incorrect and had to be redrawn based on what the federal government will reimburse.
And then there's the issue of security, which has been a hot topic since the transit center was in the planning stages. Most people involved with the project as well as city officials knew there was a good chance that the young people who acted out at the Liberty Pole would behave the same way in and around the transit center.
And so the question was how much security would be needed and who would pay for it.
RGRTA provides private security at the center, which is supplemented by the Rochester Police Department. There are also about 100 security cameras, according to Reconnect Rochester, and uniformed RTS road supervisors provide another visible layer of authority.
"It feels very safe in here," says bus rider Lori Alicie. "Lots of eyes everywhere."
But there was a stabbing inside the center late last year, and the fight from a couple of weeks ago. The latter prompted criticism of school district officials by Mayor Lovely Warren and Police Chief Michael Ciminelli.
"The Rochester City School District solely controls student transportation," Warren said in a statement. "I have personally spoken to the superintendent and his team regarding passenger safety, to no avail.
"Unfortunately, up until now, Superintendent [Bolgen] Vargas and his team have refused to implement or participate meaningfully in any discussions that could lead to safe passage for all."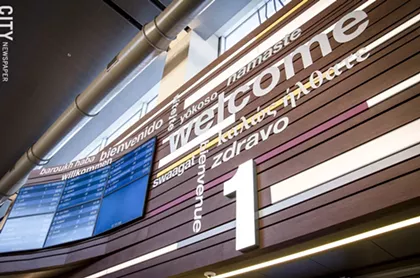 14 slides
Vargas says that he's more than willing to cooperate with the city and the police, but that the school district is not solely responsible for the way that young people behave downtown.
Zimmer-Meyer, of the RDDC, says that simply building a transit center doesn't erase the underlying societal ills that plague Rochester and lead to youth acting up, including the concentration of poverty and lack of recreation opportunities for young people.
Governale says that people and the media tend to blow things out of proportion and that it would be silly to avoid downtown or the transit center as a result of a few incidents.
"I would hate for people to use that as an excuse to not ride the bus," he says. "If anything, it's more of a statement about our community today and the fact that we've all got to step up and start taking a more active role."
Carpenter agrees. The whole city, including RGRTA, must come together to solve these problems, he says.
"If there's a part we can play, we want to play that part," he says. "It's all hands on deck."
---
RGRTA chair defends incentive pay
RGRTA has been in the news lately for more than its new transit station. A draft audit from the state Comptroller's Office recently criticized the way that the agency awards incentive pay.
RGRTA gave out a total of $1.8 million in performance awards over three fiscal years, the draft report says, most going to top executives. Another area of concern: the awards are based on broad, collective goals instead of on individual performance.
RGRTA board chair Jim Redmond says that the system is set up so that everyone has to work together to achieve the goals laid out in the agency's comprehensive plan.
"If you don't have the offer of a reward, all you have is the offer of a stick," he said in a recent interview. "And nobody wants to work for just the stick. There has to be the carrot and the stick."
The comptroller has no legal authority to tell RGRTA how to set its goals, he says.
"He's attempting to set a political agenda and advance a political agenda that is not based in law," Redmond says.