click to enlarge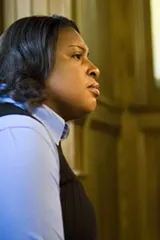 Rochester Mayor Lovely Warren said she needs a security team because she's the city's first female mayor and because of the things people are saying about her on social media.
Warren offered the explanation during her appearance this afternoon on the WXXI program, "Connections."
Warren's decision to hire a two-person personal security detail has caused an uproar, especially since the person leading the team is her uncle.
No other Rochester mayor has had personal protection. Combined, team members will make approximately $140,000 and are on call 24-7.
On today's radio program, Warren said that former Police Chief James Sheppard advised her, and other mayors, to have bodyguards.
When asked by host Evan Dawson why she needs security, Warren said because she's the city's first female mayor, and because "a lot of people don't think I deserve to be here." She cited comments people have left about her on social media, including Facebook. She also said that she had received a letter, but didn't go into specifics.
"We have some very serious problems when it comes to bigotry," Warren said.
Warren said she hired her uncle because he's qualified and he's someone she can trust. Reggie Hill is a retiring State Police investigator, according to the Democrat and Chronicle, who provided security for governors when they visited the area.
The appointment of Hill and the other team member, former Kodak security officer Ceaser Carbonell, is temporary, Warren said, and the jobs will be posted. It's not clear if Hill and Carbonell will officially apply for the jobs when that happens.