Donald Trump has no love for the media, for the GOP establishment, for Hillary Clinton or Bernie Sanders, for President Barack Obama, or for the deals that the US government has made with other countries. Neither do his supporters, which turn out by the thousands for his rallies; the mere mention of any of them generates deafening boos from the hyped-up crowds.
The GOP presidential candidate brought the spectacle of his campaign to an airplane hangar at JetSmart on Scottsville Road this afternoon. On stage, Trump said that about 10,000 people came out. (That number is probably inflated, and no official count has been released.) A large number of people were turned away, however, because the event space was at capacity.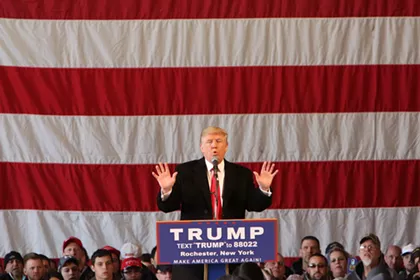 9 slides
Protesters lined up across the road from JetSmart's driveway, screaming that Trump is a fascist and a racist. They asked parents with children in tow why they were exposing their children to hate.
The Trumpians, in turn, muttered about whether any of the protesters are registered to vote. One man suggested that they get a job taking out garbage, and another yelled "I'll beat your fucking ass" at the demonstrators. And there were the usual insults directed at a protester's mother.
More than once, police had to break up scuffles in the street, which was still open to traffic. (At this point, the expectation of violence at Trump rallies is high, and it's probably a reasonable assumption that some people — supporters and protesters — go looking for trouble.)
But Trump isn't looking for people to get along; that much was clear from his speech. You're either with him or you're the enemy, and it was clear that many in the crowd feel the same way. That mindset came through as he blasted the national Republican Party leadership for its threats of a brokered convention; he's earned millions of votes and won more states than the other candidates, Trump said, and should win the nomination before the convention.
Several times he cast the press as dishonest, and on a couple of occasions he directed the crowd's attention — and its scorn — to the camera risers in the back of the room.
Mostly, his remarks were standard Trump fare. He's going to straighten America out and he's going to do it quickly through some really good deals. Oh, and we're going to build a wall and Mexico is going to pay for it. The crowd went nuts for that idea.
"If I get elected, Rochester is going to boom again," Trump said. "Our whole country is going to boom again."
Anthony Hurd of Chili supports Trump and came out to hear him deliver his message in person. He says that people need to listen to Trump and stop twisting his words. He says that he really likes Trump's plan to build a wall on the US's southern border and to better vet immigrants.
"If they don't pick him, I'm going to write him in anyway," Hurd said.
Trump came prepared for the Rochester crowd and spent much of his time talking about Upstate New York's manufacturing job losses, which he blamed on things such as NAFTA and Asia's currency manipulation. He blasted the proposed Trans Pacific Partnership as a lousy trade deal. And he invoked the recent loss of Sentry Safe, which closed its plant in Pittsford and moved some of its 350 jobs to Mexico.
If Sentry wants to make the safes in Mexico and sell them in the US, it should have to pay a 35 percent tariff, he said, as should any company that wants to import products and sell them in this country. With that sort of arrangement in place, he said, companies such as Sentry wouldn't move their manufacturing out of the US in the first place.
"The American Dream is dead," Trump said. "But I'm going to make it bigger and better and stronger than ever before."